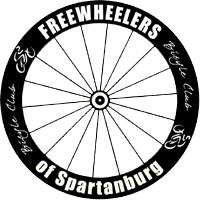 Founded in 1973, The Freewheelers Club is a Spartanburg, SC-based community service organization whose mission is to provide bicycle safety, education and promotion, and a forum for amateur sports competition and touring. Learn more about The Freewheelers Club and how you can join, here.  In 2015, due to the success of The Assaults and the opportunity to enhance charitable giving, The Freewheelers created a 501(c)(3) sister organization, The Freewheelers Cycling Association.  The Freewheelers Cycling Association (FCA) is committed to:
Providing bicycle education to children and adults, so that they may enjoy bicycling in a safe and healthy manner;

Promoting bicycle safety among bicyclists and motorists to ensure that the roadways are safe for all who use them;
Advancing healthy lifestyles by providing a forum for recreational cycling, competitive cycling and bicycle touring for people of all ages; and
Providing financial support that enables cyclists to participate in charity rides that benefit non-profit organizations and providing financial support to other organizations that support and promote bicycling.
FCA uses a portion of the proceeds generated by The Assaults on Mt. Mitchell and Marion to support other nonprofit organizations in the form of grants. Past beneficiaries include the Team Finish Strong, Partners for Active Living, Challenge to Conquer Cancer, Spartanburg Humane Society, the Mid-Atlantic Chapter of the National Multiple Sclerosis Society, Mt. Mitchell State Park, the Blue Ridge Parkway, the Palmetto Cycling Coalition and others.