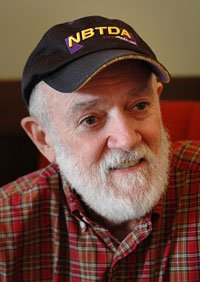 In 1975 – long before the days of personal bucket lists – Spartanburg, South Carolina native John Bryan (pictured left) set out to ride from his hometown of Spartanburg, South Carolina to the top of Mt. Mitchell, the highest peak in the Eastern United States. Bryan was one of the first members of The Freewheelers, a cycling club that formed two years earlier.
He enlisted a group of his fellow Freewheelers to join him on the 103-mile ride. Bryan's inaugural ride evolved into what is now known as The Assault on Mt. Mitchell®.
Increasing interest led The Freewheelers to create a sister ride in 1993 called The Assault on Marion®.  A shorter, 74-mile course with approximately 5,000 feet of elevation gain, The Assault on Marion follows the Mitchell course from its start in downtown  Spartanburg, SC and finishes in Marion, NC.
Since 1993, the two sister rides have, together, become known as The Assaults.
Further reading
Learn more about The Assaults' history and the event's founder John Bryan by visiting http://www.polkcounty.org/mitch/assault.html.